Parata di stelle anni '80 per il CD ispirato dal film Eddie the Eagle
Published on febbraio 17, 2016 by Andrea · No Comments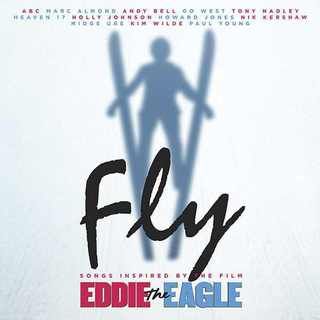 Parate di stelle anni '80 per il CD di canzoni ispirate dal film Eddie the Eagle ('Fly – Songs Inspired By The Film Eddie The Eagle)- Matthew Vaughn, il regista del film, ha chiesto all'ex Take That Gary Barlow di provvedere alla colonna sonora e Gary è andato oltre, raccogliendo alcuni dei migliori artisti 80's per realizzarla un CD ispirato alla vicende e al periodo storico del film (gli 80's appunto).
Tra gli interpreti che faranno parte della colonna sonora ci sono Andy Bell degli Erasure, Kim Wilde, Holly Johnson dei Frankie Goes To Hollywood, i Go West, gli Heaven 17 e molti altri, per questa tracklist:
Holly Johnson – Ascension / Howard Jones – Eagle Will Fly Again / Marc Almond – Out Of The Sky / Tony Hadley – Moment / Midge Ure – Touching Hearts and Skies / Nik Kershaw – The Sky's The Limit / ABC – Living Inside My Heart / Kim Wilde – Without Your Love / Andy Bell – Fly / Go West – Determination / Heaven 17 – Pray / Paul Young – People Like You / Taron Egerton & Hugh Jackman – Thrill Me
Il primo singolo estratto sarà 'Ascension' di Holly Johnson mentre il CD uscirà il prossimo 18 marzo e Gary Barlow non ha escluso una performance live con tutti gli artisti presenti nel CD.
Tags: andy bell, eddy the eagle, fly, go west, jimmy somerville, kim wilde, tony hadley
Video Revival
FEATURED VIDEO
Altre Notizie
The Prince Estate in partnership con Warner Records, pubblica "I Could Never Take The Place Of Your Man ...
Il Dj e producer di fama mondiale, KYGO, collabora con l'incomparabile, brillante e leggendaria superstar pluripremiata ai Grammy ...
Dopo essere stati costretti a cancellare il tour mondiale e a posticipare l'attesissimo album, Bon Jovi, band presente ...
Con le sue idee musicali e con i suoi testi, che oggi risultano attuali e rilevanti proprio come ...
Uscita lo scorso marzo, Mixing Colours, l'album di debutto dei fratelli Eno su Deutsche Grammophon, ha catturato l'attenzione ...